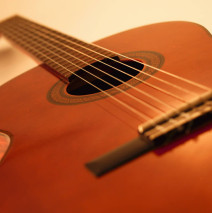 What Type of Guitar Strings Should I Use?
So this is our third blog on strings. We first talked about how to know when it is time to change your strings, then dealing with the inconvenience of a broken string, and now I will write about what brand, type and size of strings to use.
Strings are sometimes specific to the guitar so knowing the type of guitar you have is important. If the guitar you play has a sound hole of some type where the sounds of the vibrating strings bounce around inside the guitar and then escape through the hole, you have an acoustic guitar. If you can plug this guitar into an amplifier because it has a pickup, it is still an acoustic guitar.
Acoustic guitars can use either steel strings with the larger strings wrapped in phosphor bronze or silver plated copper; or nylon strings with the larger strings wrapped as well. Remember that just because some of the nylon string sets have wrapped strings, they are still nylon core! This is important because of the additive tension that a full set of strings puts on the neck, bridge, and face of an acoustic guitar. Steel string acoustics are designed to accommodate steel strings that exert approximately 180# of pull when tuned properly. Classical acoustic guitars are designed to accommodate nylon strings that exert approximately 70# of pull. Because of this large difference in tension, steel strings should never be installed on a classical guitar. At the very least it will bow the neck, but it also has the potential to pull the bridge right off of the guitar! Putting nylon strings on a steel string is possible, but you will have to alter the nut slots (which is permanent) and the sound will be less than desirable. If your guitar is electric, the strings are generally steel core and the larger ones are wrapped in nickel-plated steel.
Most electric guitars are sold with a string set beginning with .009″. Most Acoustic guitars are sold with a string set beginning with .012″. Larger diameter strings may require some adjustments to the guitar (and your calluses), but will reward you with louder volume and sustained tone.
Happy playing & thank you for supporting your local community music store!
Like us on Facebook! www.facebook.com/GreshamGuitar